Arriving on public transport
Finding your way around an unfamiliar area can be a little daunting, especially when you are arriving on public transport. We hope the following information will make it as easy as possible for you.
Boutique Narrowboats is located at Union Wharf in Market Harborough, which is about a 10 – 15 minute walk from the historic town centre and under two miles from the Market Harborough train station.
Arriving by train
Market Harborough railway station is mainly served by East Midlands Railway, which has direct lines from London St Pancras, Nottingham and Sheffield. If you are travelling from further afield, the occasional change of train may be needed, but details on routes can be found here: https://www.thetrainline.com. The route from St Pancras to Market Harborough takes just over an hour.
If you would like to be met by a taxi, you will need to book ahead.
Arriving by Taxi
Murphys Taxis 01858 410210
Random Cabs 01858 469299
Kwik Cabs 01858 468777
Market Harborough town centre hotels
The Three Swans https://threeswans.co.uk/
Travel Lodge Travel Lodge Market Harborough
Premier Inn (3 miles from Union Wharf) Premier Inn Market Harborough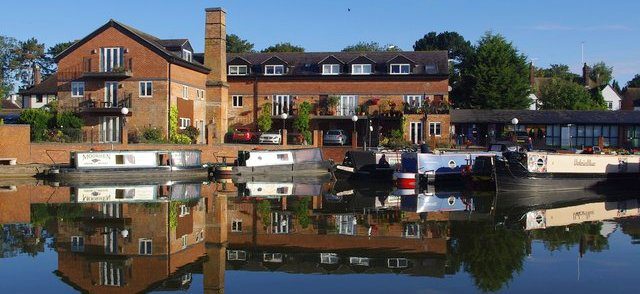 Bringing your food
You'll need to bring your food and drink when you arrive for the boat handover at 2pm. Supermarkets in town include Sainsburys, Waitrose, Lidl and Aldi. Some of our guests prefer to have food delivered to Union Wharf in the morning, and we are happy to pop it on board your boat ready for your arrival in the afternoon.
Visiting from overseas
The airports most local to us are East Midlands airport, Birmingham airport and Luton airport.