Imagine sitting together on the back deck of your canal boat, ice clinking in your G&T as you watch the sun go down over a stunning rural landscape.

In a moment or two, you may walk up the towpath to a waterside pub and feast on delicious plates of food.

Later, after an evening spent reminiscing over the day's adventures, you'll venture back down into the canal boat cabin to warm in front of the pot-bellied stove, before retreating to the king-sized bed.
For first timers on a canal boat holiday, a lot of initial energy is always poured into perfecting the handling of the narrowboat. Whether you are steering or navigating, mooring up or operating locks, there is a lot to learn and new skills to master.
But after a while, you'll begin to relax a little and that's when the wind-down really starts, and the indulgence can begin…
(*The links are all activities/attractions within reach of our base at Union Wharf, Market Harborough, Leicestershire.)
What to do on a canal boat holiday
Moor up and enjoy a towpath picnic.
Take a walk or jog off the beaten track.
Snuggle up under a blanket with a good book and freshly-brewed coffee.
Chat to fellow boaters as you move through the locks.
Play the ukulele. It makes those on other canal boats smile and some will join in 🙂
Bake. Then share the fruits of your labour with another crew moored nearby.
Get lost in the Wistow Maze.
Write your memoirs.
Dress up and totter to a waterfront bar for early evening drinks.
Go to bed with the shutters open above you and count the stars.
Have a lie-in.
Do yoga in a field of sheep. (Cows look at you a bit funny.)
Tell stories round the potbellied stove.
Have breakfast together on the deck.
Blog about your canal boat holiday.
Moor outside a pub. Just because you can.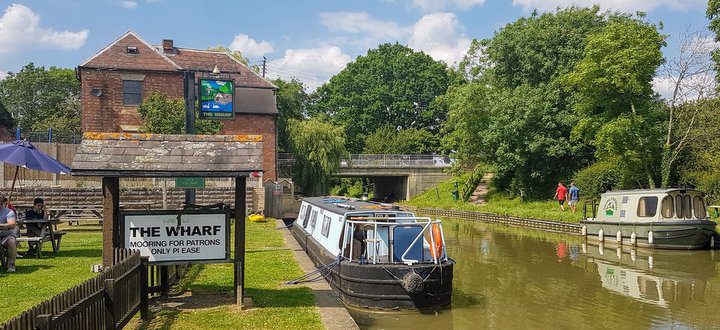 Learn to knit.
Have brunch on a narrowboat café.
Get educated about our rich canal heritage at a museum.
Wake to a view you've never seen before.
Meditate on the front deck.
Cook a roast dinner.
Sip wine at the foot of an English vineyard.
Watch Netflix on a rainy afternoon.
Enjoy a cream tea at a lockside tearooms.
Invent a new cocktail.
Paint a view.
Or photograph it and post your favourite to Instagram #boutiquenarrowboats
Other de-stressing canal boat holiday ideas
Turn off the WiFi on purpose.
Read a book about knots and feel happy when you see one you can identify.
Read another one about birds. Ditto.
Watch a sunset from the best seat in the house.
Ready to start your own luxury canal boat holiday?