Grand Union Canal Boat Hire in Leicestershire
Boutique Narrowboats offers romantic canal boat hire the stunning Leicestershire and Northamptonshire waterways.
Even if you are already be familiar with the Leicester section of the Grand Union canal, you will certainly never get tired of it. Follow the meandering waterways through stunning countryside and British woodland, savouring glimpses of pastoral agriculture beyond. Here, farm animals share their drinking spots with their wild cousins and if we are lucky we can enjoy the company of both.
Husbands Bosworth, Crick and Braunston all boast tunnels to navigate, whilst flights of locks at Watford and Foxton provide high points of any narrowboat cruising.
Waterside cafes and restaurants punctuate the landscape and there is nothing sweeter than mooring up to find refreshment in a canalside pub. Venture through the cities of Leicester, Rugby or Coventry and you will enjoy a different experience within their urban facades.
Back inside your narrowboat, you'll find luxurious designer touches throughout, to help you feel relaxed and utterly pampered. But if you seek rural tranquility outside, we guarantee you will find it here in Leicestershire. Our part of the world is gentle and romantic and restorative. And we would love to share it with you.
Canal highlights along the Grand Union, Leicester Line
Foxton Locks

One of the best known flights of locks in England, Foxton draws visitors from many miles around. Like at Watford (below), lock-keepers supervise the passage of canal boats up or down the flight and are on hand to offer instruction or advice. You'll need to check opening times here and book your ascent or descent with the lock-keeper on arrival.
Pubs and cafes provide respite after an active afternoon, from where you can watch other narrowboats cruise by as the sun goes down. Luckily there are also lots of temporary moorings, even in high season.
Union Wharf, Market Harborough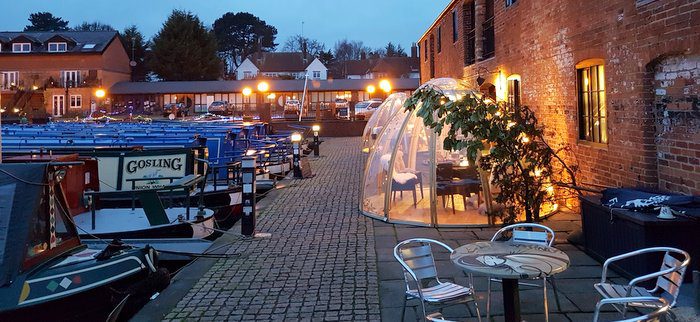 Market Harborough is a thriving market town in the heart of England. The town itself is home to some exciting boutique shopping and many cafes and bars and we have compiled our own Town Guide especially for our guests. Many of our hirers make the most of The Waterfront bar and restaurant in the canal basin, which is popular with locals and tourists alike.
If you prefer seclusion, the Harborough Arm of the canal is one of the most peaceful routes through the Leicestershire countryside. Mooring along the towpath is plentiful and free – we provide maps on your boat so that you can plan your next stop as you cruise along.
Watford lock flight

Volunteer lock-keepers supervise the flight of seven locks during opening hours (check times here.) On arrival at the top or bottom lock, you'll need to book your ascent or descent with the lock-keeper before attempting to operate the flight.
These are amongst the prettiest locks you will encounter, complete with their baskets of flowers and magnificient views. Over two hundred years old, these locks lift narrowboats 16 metres up to the Leicester summit and offer one of the most spectacular towpath picnic spots in the midlands.
Where we are
We are based at Union Wharf Marina, in the canal basin at Market Harborough. Once you've arrived, pop in to the marina office for check in. You can unload your car near the mooring and then park in our car park for full peace of mind while you enjoy your holiday.
Planning your route
Whilst planning can be a fun part of the holiday, do bear in mind that the joy of narrowboating is often in spending a few days "off grid." You'll probably change your mind as you go along, almost certainly take longer than you think you will and definitely build in more unscheduled detours! Whether you are a planner or a free spirit, this holiday may take you by surprise.