All of our canal boat holidays start and end at the marina in Market Harborough, known as Union Wharf. The Wharf is just on the edge of this thriving market town, meaning that the shops, cafes, bars and restaurants are within walking distance.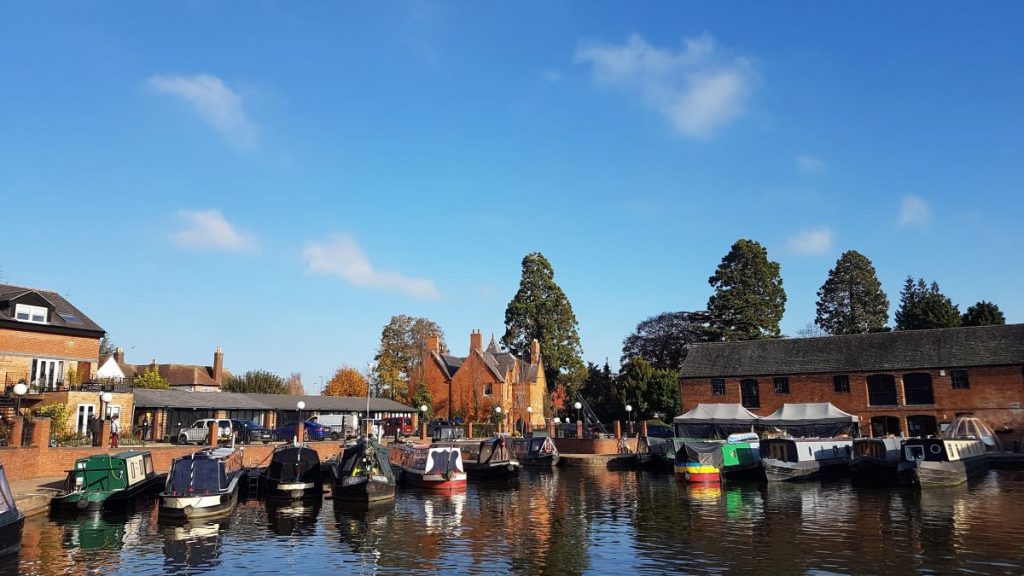 Market Harborough is home to many flourishing independent and small businesses, as well as larger companies. This feels charmingly old fashioned in today's world of out-of-town shopping, but that's a good thing; Harborough has personality in abundance.
Shops in Market Harborough
Plenty of corporate chain stores have made their home in Market Harborough. The town is large enough to support big names such as Jigsaw and The White Company, Boots and New Look. But the joy in visiting Market Harborough is actually in discovering the small – and often surprising – independent shops. If you are new to the town, we are willing to bet that you've never before visited the likes of Frank Gilbert's Housewares. Here staff and customers vie for space among a chaotic array of rattan baskets, tea pots and jam pans, piled high as you like and spilling onto the pavement. Ask for a particular size of cafetiere or shape of cake tin, and folk will disappear into the back for a few minutes, emerging triumphantly and mysteriously with the exact item in question. Magic, indeed.
Or how about Bagel and Griff, the contemporary homewares store which is as stylish any London boutique. Rustic clay vases, slate platters, thick glass dishes are arranged with the kind of artistry that makes you feel you've walked straight into a Homes and Garden's photoshoot. Don't miss the upstairs bit, either – it's a treasure trove of pieces that will make you want to style your bathroom.
Foodie heaven
Market Harborough is blessed with some incredible independent food specialists. The Garage Bakehouse (the tiniest bakery you ever saw) creating the flakiest of pastries and softest of rolls from its bijou home in an actual former garage. There's the fishmonger – when did you last visit one of those? – on Church Square, showing off seafood on beds of crushed ice, and bouquets of samphire to accompany. They sell free range eggs, too. The Artisan Butcher is a couple of doors down – pick up some dry-cured bacon to pair with those eggs and you have a breakfast fit for any seasoned canal boater.
And of course there is the award-winning Farndon Fields Farm Shop, with its aisles of home-grown vegetables arranged as much for the eyes as the palette. It's a bit of a walk from Union Wharf, but worth it; brunch is served next to a wood burning stove, or outside under the huge potted olive tree if it is warm enough. They do pick-your-own pumpkins in October but you'll need a car (or taxi) for that.
Bars and restaurants in Market Harborough
If you are staying on one of our canal boats, chances are that you will want to spend your final night in or near Union Wharf. This gives you the perfect opportunity to explore Market Harborough's night life. Now don't expect to find the midland's version of Ayia Napa on your door step. Things are a little more sedate in Harborough, although the local Wetherspoons can get lively and Enigma bar puts on regular live music nights.
What you will find here – and what the town has become reknowned for – are independent, stylish bars and restaurants.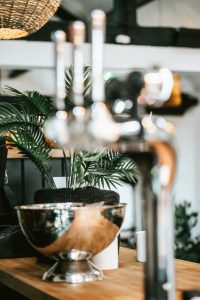 In fact, there are so many that it's hard to pull out just a few to tell you about. Mecardo Lounge has to be up there as a top recommendation, because it caters to so many different kinds of people, from babies to great-grandparents. The decor is flamboyantly 1970s, the atmosphere casual, and you can spend time enjoying morning coffee with the newspapers or evening cocktails, over candlight.
Another of our favourites is The Three Swans, a coaching inn which has a long and very interesting history. One of its former owners is reputed to be the real life inspiration for Basil Fawlty. The photos which adorn the walls lovingly tell stories of Market Harborough's past. The wine selection is excellent.
Fernie Hall is a good place to start the evening drinks ball rolling along St Mary's Road. This is a creative and elegant mishmash of rooms, decorated with an eye on the vintage and antique – right up the alley of Boutique Narrowboats' clientele.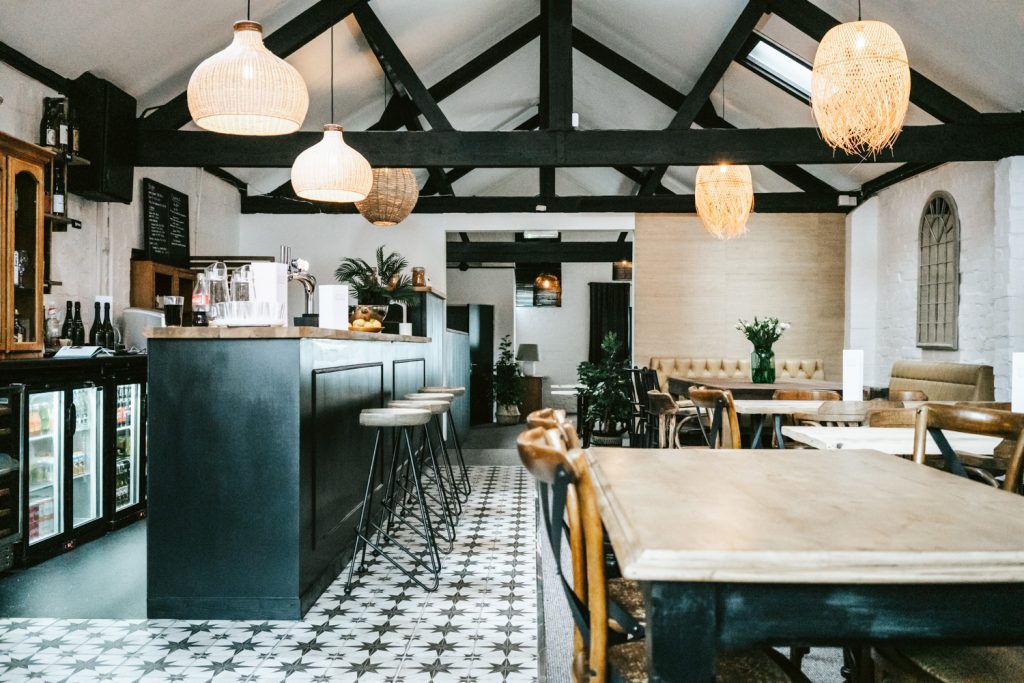 Continue up this road to visit the glorious Fifty Eight (pictured above), with its Parisian feel and chic nighttime vibe. And – if you are feeling energetic – perhaps all the way down to dine at the Indian/Nepalese restaurant, Avatar. Louisa's is a good bar for a cocktail on the way back to your boat.
More food recommendations
If you are staying on one of our canal boats, you can't go wrong with Rocksalt Bistro, us five minutes' walk down the hill. This would be a perfect last night kind of restaurant as it is very popular with couples and lovers of seafood and steak.
Ascough's is the town's fine dining experience but you'll need to book ahead. Jude Law was spotted eating here. We don't know what he ate but the tasting menu is fabulous.
Taste Social offers Dim Sum in minimalist, oriental surroundings. Mexican fayre is served looking down across the market square. Or you can seek out the more familiar Italian group restaurants amongst Zizzi's, Pizza Express and Wildwood. For takeaways, we would recommend Abbey Cottage (chinese food) and fish and chips from Cod's Scallops, both near Mecardo Lounge.
There is a reason why many people return to stay on canal boats our part of the world, year after year. Market Harborough is such a jewel in the heart of England, that many extend their stay in order to enjoy all that the town has to offer. We hope that you enjoy finding out a bit more about our home, and let us know if you have any of your own recommendations.