Foxton Locks in the heart of Leicestershire attracts over 4000 boaters each year and is considered one of the most extraordinary heritage sites in the country. A flight of ten locks comprises the longest staircase of the English canals and whilst the feat of engineering is not in doubt, to a novice narrowboater it can be a little daunting. On a busy day, up to 40 boats can make it up and down the flight; the canal equivalent of Spaghetti Junction.
Luckily there is help at hand in the form of the wonderful Canal and River Trust volunteers, who will book in your ascent or descent, and walk you through the experience. If you've never operated a lock before, this is the right place to start.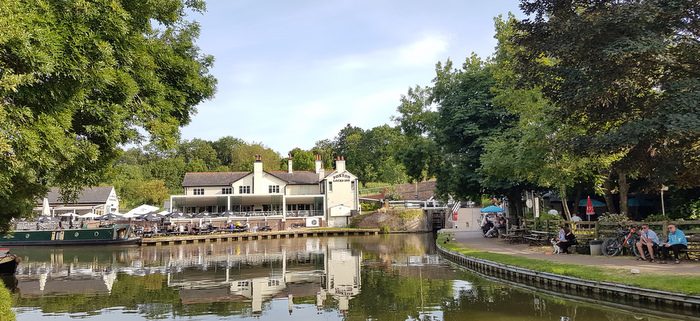 Booking in at Foxton Locks
To begin with, you'll need to moor up in or close to the basin and drop off a member of your crew to find the Lock Keepers. They are easily recognised by their bright blue tops and red lifejackets. If you can't find a Lock Keeper on the locks themselves, knock on the door of Top Lock Cottage. Tell them you'd like to bring your boat up or down the flight and they will book you in, giving you an approximate time.
At peak times, this could be an hour or more away, so be prepared to put the kettle on while you wait. If you are lucky, you'll be waved straight through. The flight itself takes around 45 minutes to navigate up or down.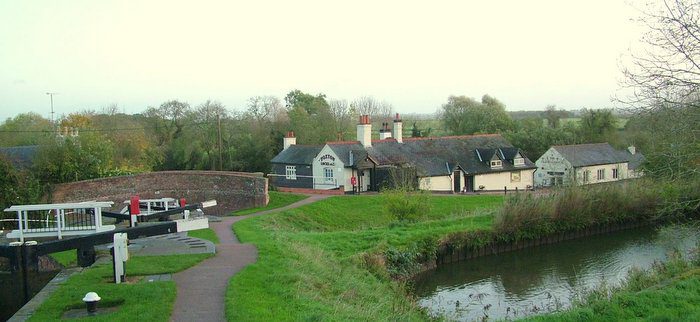 Visitor moorings
The basin at the bottom of Foxton Locks is reserved for those waiting to use the locks, although you can moor directly outside Foxton Locks Inn for 24 hours. Likewise, the immediate approach to the top of the locks is used by boats queuing to come down. With those exceptions, there is plenty of visitor mooring at both the top and bottom of the locks. The Canal and River Trust has produced a handy map here.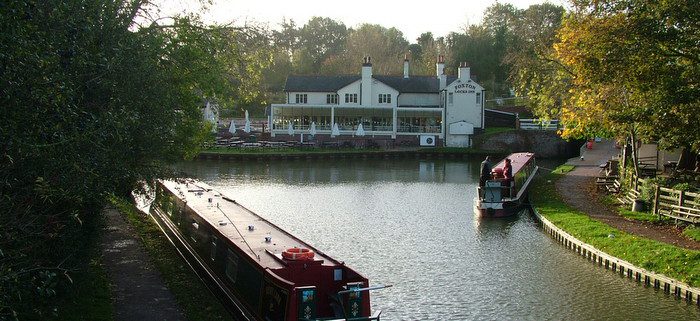 opening times
The locks themselves are only navigable between certain hours, when the Lock Keepers are on hand.
The hours of opening change with the seasons and according to any maintenance work.
You can check the up-to-date opening times on the CRT website here.
Foxton Locks' own website is here.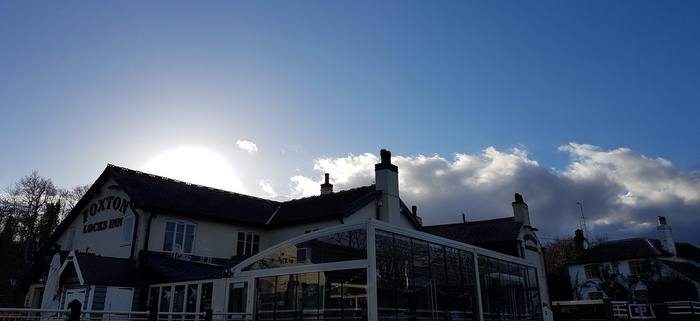 Foxton Locks canal heritage
Work started on Foxton Locks in 1810, and 200 years later, they are Grade 2 Listed. They attract hundreds of visitors a day – sometimes thousands; as a boater, you'll never be short of someone to help open and close the gates if you need a hand.
1900 saw the opening of the notorious Inclined Plane, a feat of engineering designed to use hydraulic power to lift and lower boats. Unfortunately, the system was only in operation for ten years but one day it's hoped that the lift may be restored and the Canal Museum features a wonderful historical photograph archive.
Find out more about the inclined plane and it's history here

Day boat hire
You can hire a day boat for 2-12 people from Union Wharf in Market Harborough. From here, you can meander along the Harborough Arm to the bottom of Foxton Locks (a journey of about 2.5 hours.) Although you can't go up the locks themselves in any day boat, many families choose to bring a picnic or even stop for refreshments at one of the Foxton pubs.
The Foxton Locks experience
The Boilerhouse Canal Museum
Foxton Canal Museum, Middle Lock, Gumley Road, Foxton, LE16 7RA
0116 2792 657
Opening times are here.
Foxton Locks Inn
Bottom Lock, Gumley Road, Foxton, Market Harborough LE16 7RA 0116 279 1515
www.restaurantfoxtonlocks.co.uk
Hot and cold food and a pub garden. You can moor up directly outside if you're lucky enough to get a spot!
Bridge 61 pub
Bottom Lock, Gumley Rd, Nr Market Harborough, Leicestershire LE16 7RA 0116 279 2285
www.foxtonboats.co.uk/bride-61-pub/
Sells hot and cold food and snacks and open all year round. Another wonderfully-located beer garden right on the towpath.
Black Horse in Foxton Village 50 yards from canal at bridge 3 on the Market Harborough Arm Main Street, Foxton, Market Harborough, Leicestershire LE16 7RD 01858 545250