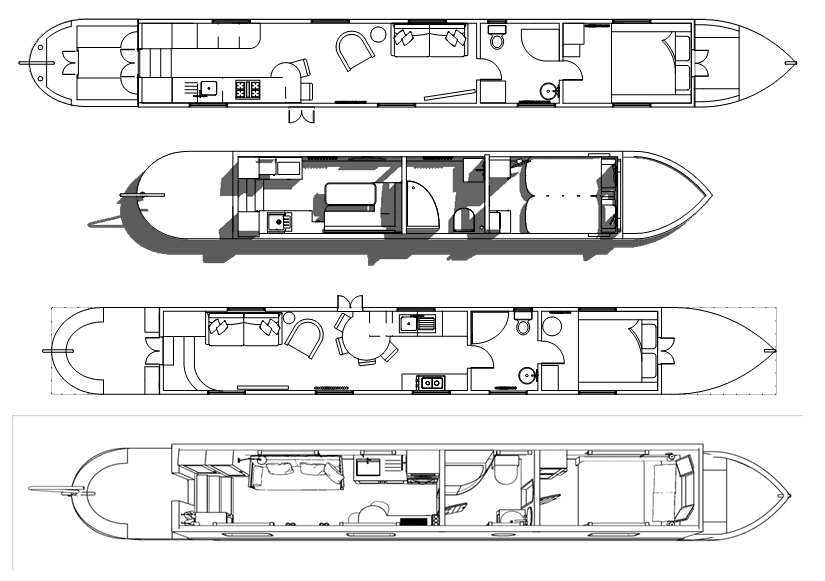 Boutique Narrowboat builds
Boutique Narrowboats are built to suit contemporary lifestyles, combining premium engineering and unique interiors. We commission quality shells and then design and fit them out to the highest standards.
We never create an "off the shelf" caravan boat. Our narrowboat builds are all individual and draw on our experience of the hire industry to ensure longevity. Interior design and luxury elements are hugely important in the fit-out of our Boutique Narrowboats.
---
Interior design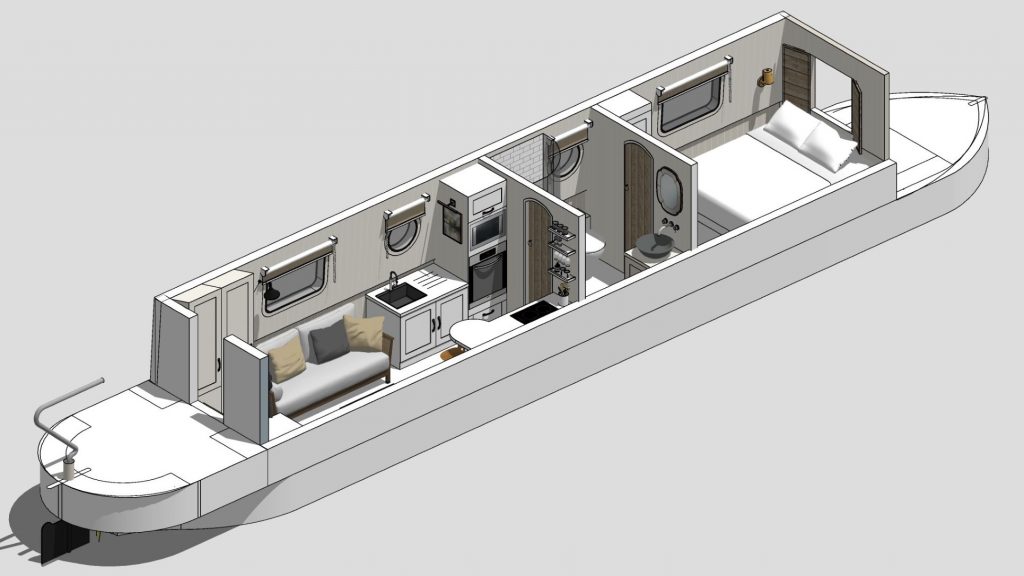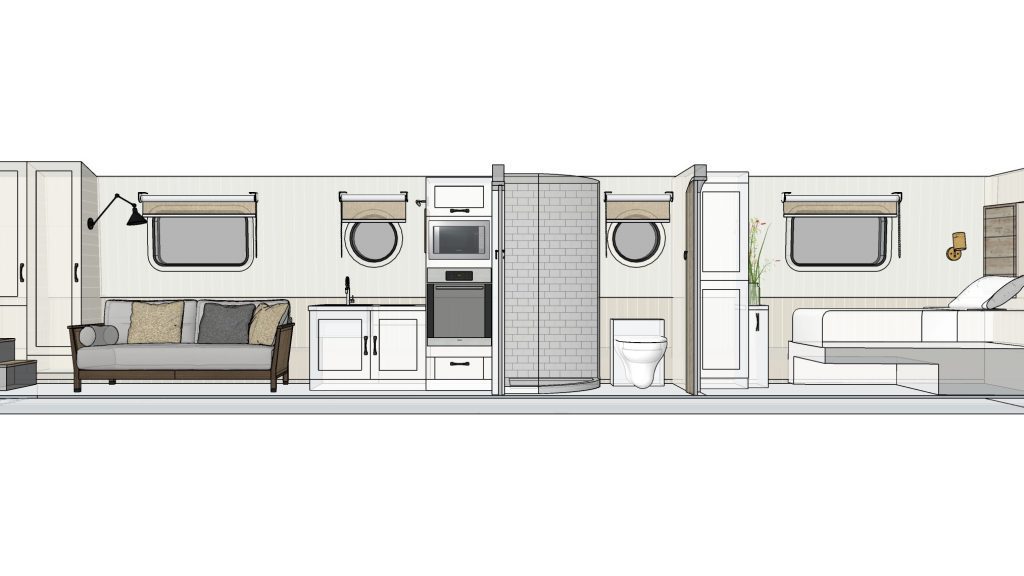 A Boutique Narrowboat is designed for modern living. We don't have a production line, preferring instead to create spaces full of personality and soul. Each boat is a collaboration between members of the Boutique Narrowboat team to consider:
Layout
Furniture and decor selection and placement
Floor plan layout
Styling (surfaces, sofas, beds, walls etc.)
Paint/wall/panel treatments and window treatments
Cabinetry and built-ins
Fixtures, finishes and trims
Creative use of space
---
Engineering
The various engineering systems are a vital part of each project. Our specifications are created for every individual build, and include:
Engine, gearbox and control panel
Propulsion system
Lithium batteries
Premium thermal break double glazing
Appropriate inverter type
Heating and calorifier
Waste management including toilet
Plumbing and electrics set up
Internet and networking, including WiFi and entertainment systems

---
New boat pricing
Because each of our boat builds is unique, we don't operate a fixed price system. A typical 57 foot diesel Boutique Narrowboat with premium double glazing, lithium batteries and hand-painted interior starts at around £165,015 + VAT.
Also included in the price is our minimum 12 months warranty on parts.
---
Purchasing a Boutique Narrowboat
To find out about the next narrowboat build slot, we invite you to get in touch.
We can arrange a meeting at our marina offices at Union Wharf, or at our workshop at Debdale Wharf or arrange a telephone/video call if you prefer. A deposit of £2000 secures your narrowboat and if you choose to reserve before the boat is complete, we use a standard contract from our membership association, British Marine, to ensure all parties are covered during the handover process.
---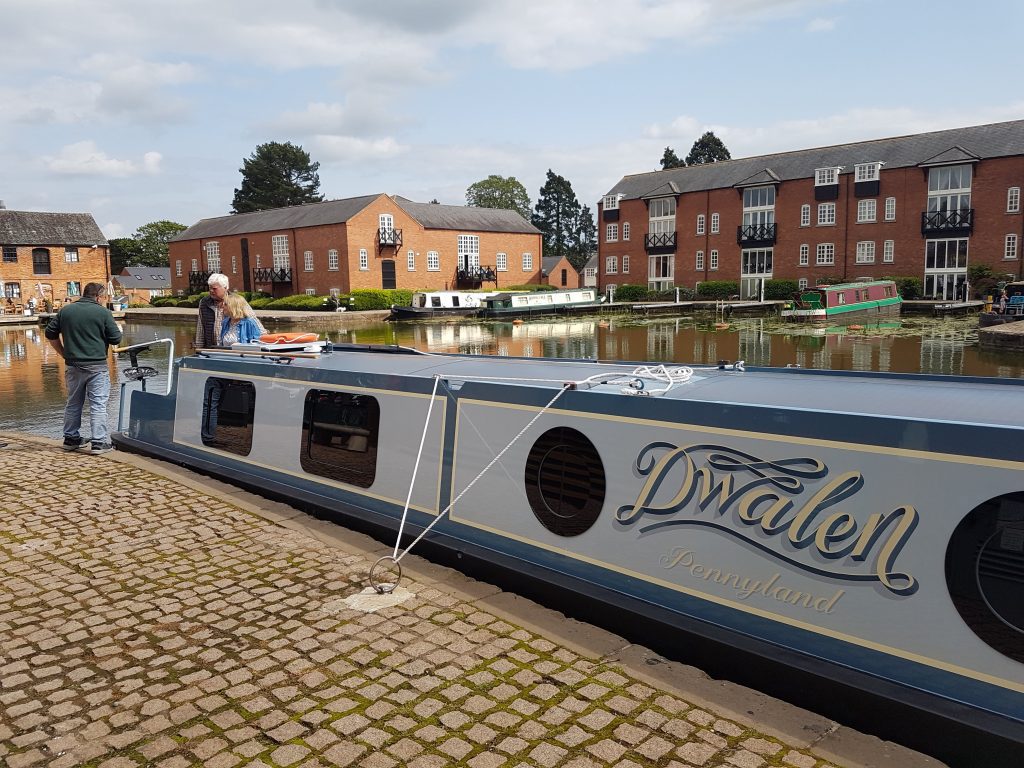 We are absolutely delighted with our new narrowboat built by Boutique Narrowboats.   We wanted a 45 foot cruiser stern hybrid with all mod cons including air conditioning, and wow did they deliver.  Our heartfelt thanks to Aaran whose engineering skills  patience and hard work produced a truly lovely boat which has been much admired by boaters and towpath walkers.  A special  mention to Aaran's custom designed tractor seats with backs which have been the envy of many a boater.

The interior has been beautifully designed with unique touches – it is spacious, light and airy, with good storage, without compromising comfort and functionality. Our grateful thanks Sharon for your expertise, advice and for keeping us updated every step of the journey.

Thank you also to Gary, carpenter extraordinaire, for the many beautiful custom made items including the reclaimed wood doors and bedroom shutters.

Very best wishes

Valerie and Rudolf
---