Eating out on a canal boat holiday is one of the joys of the whole trip.
Of course, the beauty of choosing a canal boat holiday is that you take your kitchen wherever you go. We encourage our guests to bring enough food with them for their entire vacation. This is because you can never predict when a pub or restaurant will be closed unexpectedly or if a delay on your route means that you arrive just as the kitchen closes.
That being said, there is a sense of luxury in choosing a restaurant for the evening. A delicious meal followed by a short walk back to your canal boat – what could be better? And it makes sense to explore the town's restaurants at least once during your holiday.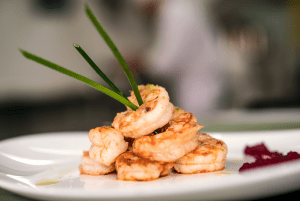 Where to eat out in Market Harborough
So if you are planning on making the most of our wonderful pubs and restaurants in Market Harborough, here are some of our favourites. These are all are a short walk from the basin at Union Wharf. (If you are interested in exploring our waterside pub recommendations, take a look at here.)
Rocksalt Bistro
This intimate bistro is a short walk from Union Wharf, and very popular with locals celebrating something special. Their delicious seafood is a speciality.
Rio Bravo Restaurant
Take the stairs up the first floor of this small mexican restaurant in the town square, where food is freshly prepared and completely delicious.
https://www.riobravomexican.co.uk
Taste Social
This elegant restaurant serves a twist on traditional chinese food (although that is available next door if you prefer at Han's.) It's a stylish setting where the diners also enjoy cocktails.
Blue Wave
Fish and chips to take away. It's a bit of a walk but they do deliver and you can order online. Our postcode at Union Wharf is LE16 7UW and let them know you are on a boat!
https://www.bluewavefishbar.co.uk/
Lots of choice for restaurants in Market Harborough
Honestly, it's really hard to pull out just a few of our favourite restaurants in Market Harborough. There is a great little map below which is a good starting point if you'd like to explore the cafes and restaurants which pepper our lovely town. Click on the map to take you through to the local tourism website.  Bon Appetit!