Sometimes we are asked if it's possible to return a holiday boat later than 9:30 AM on the morning of check out. I'm afraid to say that the answer is always a negative because, behind the scenes, there is simply too much to get done in very little time.
A holiday narrowboat takes between 3-5 hours to prepare for the next guests (unlike the 20 minutes needed for a hotel room.)
These so-called Turnaround Days are a flurry of activity. Here's what we get up to after you've dropped keys back off…
Interior clean
Imagine how long it would take to deep clean a small apartment. To clean the inside of ovens, fridges, coffee machines and microwaves; to pull out the sofa, clean under the bed; polish the shower cubicle; change the bedding; to sweep out the potbellied stove and replace anything missing or broken. The Boutique Narrowboats are full of little interior details which need careful housekeeping.
For an experienced cleaner, we allow three hours. If someone is new to the team, this can take longer.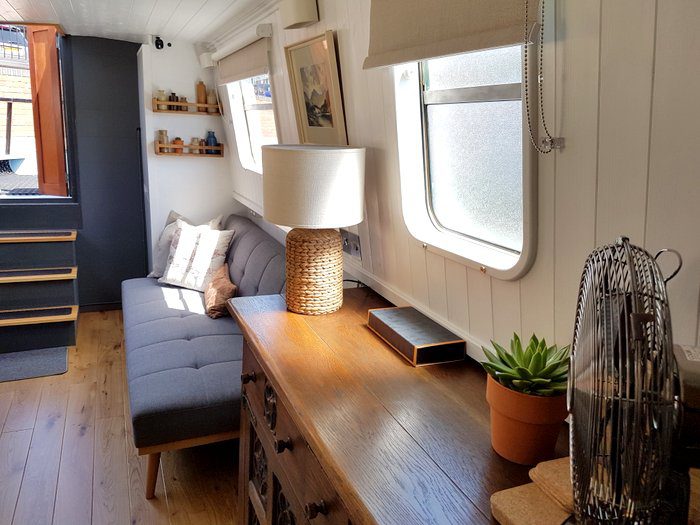 External clean
Unlike a hotel room, a narrowboat drives slap-bang through the middle of all the weather and wildlife. Over the course of a weekend break, the decks get wet and muddy/dusty and are adorned with fallen twigs, leaves and duck poo. Before the next hire, we sweep and clean the outside of the boat.
Pump out
On a canal boat, the toilet waste is stored in a tank. We drive the boat over to the service area after every single hire to pump and then flush out the tank so that it is completely empty and ready for the next guests.
Diesel
Whilst over on the services, each boat is refuelled so that guests do not have to do this. The cost of the diesel is included in price of your holiday.
Water top up
The large water tanks on board are filled with fresh drinking water before each hire, which is what you will use every time you turn on a tap, have a shower or flush the toilet. The tanks are so large that they can take around one hour to fill.
Internal checks
Too numerous to list here, we have a system of checklists which covers mooring and safety equipment, Wi-Fi and heating, as well as essential kitchen items. One of us checks through the list for each boat before it can be sent out again.
Once you've left the marina on your holiday it can be a minor disaster if you are missing a bottle opener or a toilet roll; a narrowboat holiday is unique in that you can't divert to a nearby convenience store if anything has been forgotten, so we know how important it is to double check everything.
Engine and mechanical checks
Every turnaround day, each boat is checked over by an engineer, who will work through another list to ensure the boat is in good shape in the engine bay underneath the deck boards. At regular intervals, the boats are also serviced at this time.
Maintenance
Big or challenging maintenance jobs involve blocking the calendar for a week, but smaller or emergency work is carried out on handover days. These jobs include touching up paint work and repairing collision damage.
We never quite know what to expect when boats are returned to us, but we've learned not to seem surprised when returning hirers hand us half a thing – half a plate, half a rope, half a chimney. The canal bed presumably has all the other halves.
Getting it right
I'd love to tell you that a Monday or Friday turnaround morning runs like a well-oiled machine but of course there are moments of chaos and panic when things don't go to plan (that's another blog post entirely.)
In the end, none of that matters. When you check in for your holiday, you now know why we are proud to declare that yes, your boat is all ready for you. But you also know why we apologise that no, unfortunately it won't be possible to have a late checkout on your return 😉