Narrowboat build
Our latest luxury narrowboat build, Marbled White, began life last year as a beautiful steel shell from reknowned manufacturer, Elton Moss. The Cheshire based company worked with us to build a bespoke hull; we specified a 12mm base plate to help with stability and longevity, and cut outs for large picture windows to make the most of the natural light.
We turned to the engineering next, and opted for a diesel Beta 38, perfect for hire boats. We sourced an array of eight solar panels feeding to a large lithium battery bank. Many of our hirers are novices and unused to managing irregular power feeds and so we always over-spec the batteries. This set up has also enabled us to dispense with the need for gas.
From these lovely bones, we went on to map out an interior design which would be practical for our hire business as well as stylish.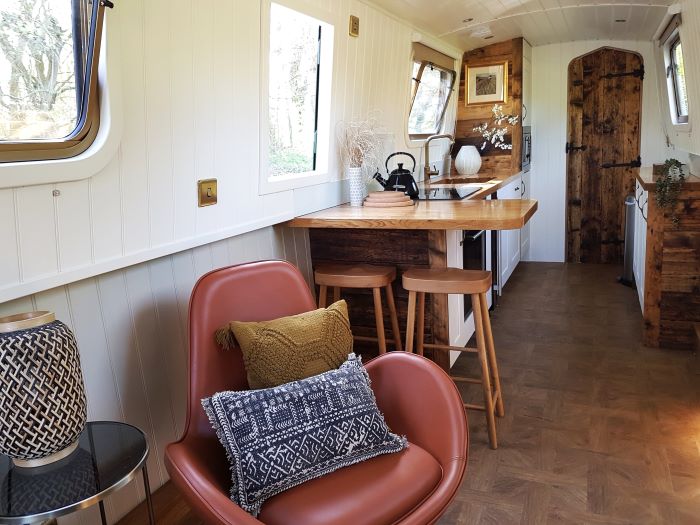 Interior design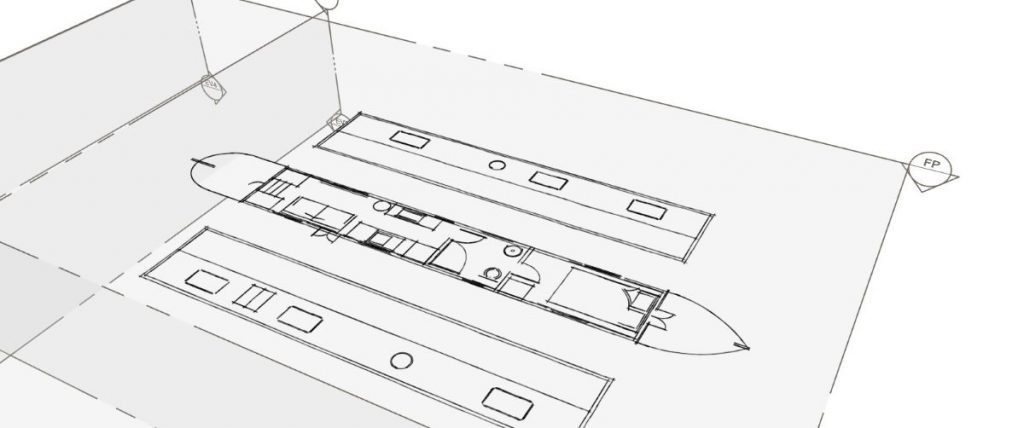 Actually, this not as easy as it sounds and anyone who has ever tried their hand at narrowboat interior design will recognise the inherent tension within that endeavour. Long thin rooms require a unique kind of approach when you also account for water, weather and extremes of temperature. Then there are the many weird interior angles…
But eventually it all comes together. After lots of drawings, collaborations, discussions and many changes along the way, here is Marbled White.
The space
Let's start at the front, and the reason that many people love our narrowboat builds: The Bed. We love to install a 5 foot kingsize bed in the bow (and no, it doesn't cause problems when mooring up – see this video for the way we train our hirers to moor.) We wanted the bedroom to be warm and inviting so we clad the front and interior shutters with a recalimed timber from a Victorian mill.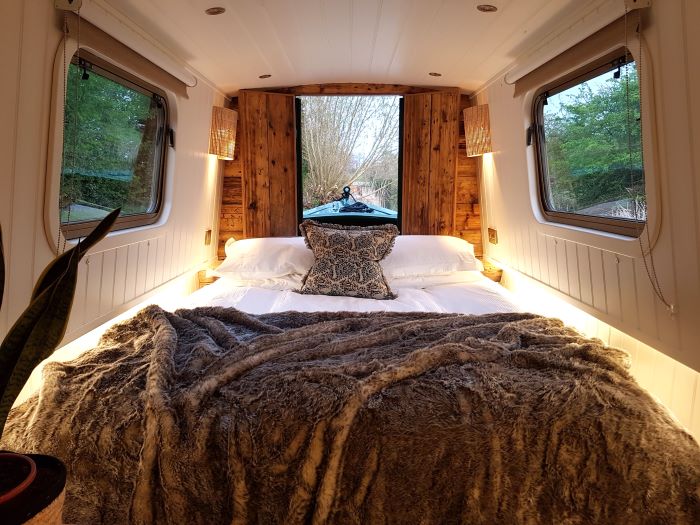 In fact, we used the same timber as accents throughout Marbled White, most notably for the bespoke doors built by our very talented joiner, Gary.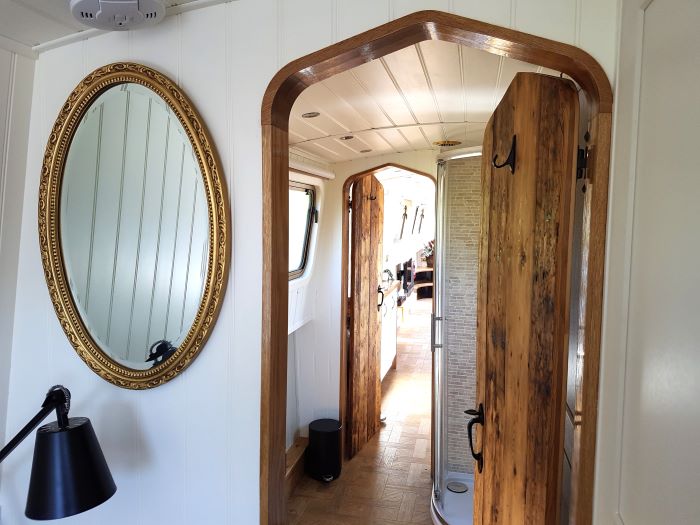 In the bathroom, you'll find a marble sink, a natural material repeated in the mosaic-tiled shower enclosure. We do love a walk-through bathroom; it works especially well on a boat built for two and means that the space feels much bigger.
Into the kitchen (or "galley" for the purists), we've undermounted a sink and channelled grooves into the oak worktop. An antique brass tap completes the look and we've gone for some lovely practical appliances here. We've included an undercounter fridge with freezer icebox, a microwave, pull out larder and a superb little wine fridge. As there is no gas, there is also an induction hob and electric oven.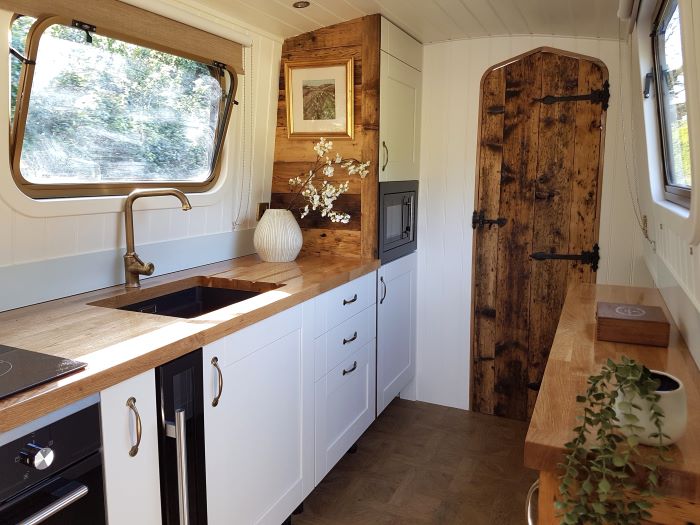 The side hatch is positioned over the breakfast bar which frames an ever-changing view. Here we've used handmade oak stools .
A Smart TV and Bose sound bar create a modern entertainment system. The large charcoal sofa is paired with a vintage-style chair.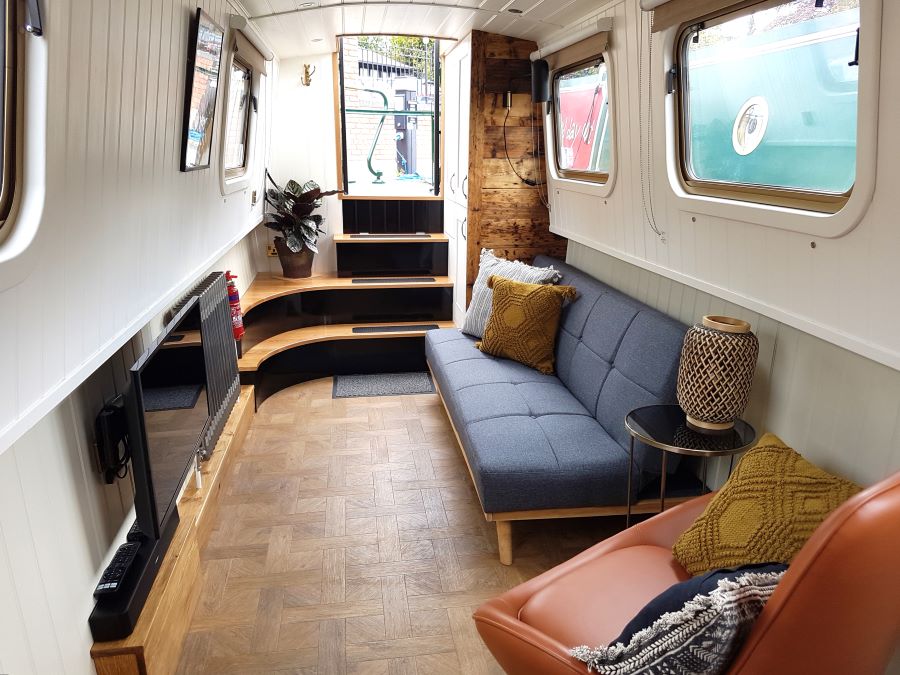 Painting
On this narrowboat build we have used an exterior eggshell paint from Farrow and Ball for the interior tongue and groove panels – Wimborne White above the gunnels and Off White below. These provide a neutral backdrop for some original pieces of art and antique mirrors. The colour on one bathroom wall is Bancha, a deep moss green which allows the statement sink to shine.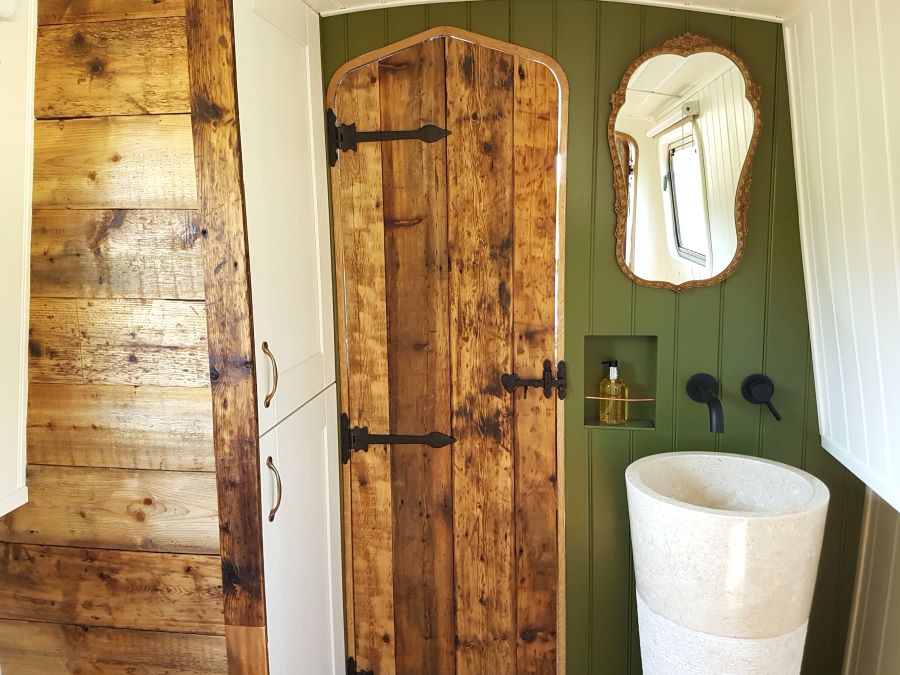 The exterior paintwork is Heritage Green from Symphony, applied beautifully by Tristan and the team at North Kilworth Wharf. Darren Williams has done a fabulous job in painting the boat name.
Marbled White has performed exceptionally well in testing. It steers beautifully and is easy to control and turn, thanks in part to the 12mm baseplate which ensures the boat sits nicely in the water. The windows – doubled glazed with a thermal break – ensure there is no condensation and it is practically draft-free.
Of course, this narrowboat is a product of many people here at Union Wharf. We must thank Gary, Alan and Blaize in particular, but we are grateful to all who played a part in the build. Marbled White attracts attention wherever it goes and has become something of a flagship for our hire business as well as a showboat for the narrowboat build side of the business.
Welcome, Marbled White!
More about our narrowboat builds