Narrowboat interior design is always a compromise. How can it be otherwise when your rooms are all 6'10" wide? Nevertheless, our latest hire boat – Kathleen May – was a joy to work on.
Kathleen May was always 55 feet of loveliness from the outside. Her shell is inspired by old working canal boats and features a grand tiller arm and classic-shaped stern. Traditional portholes complete the look.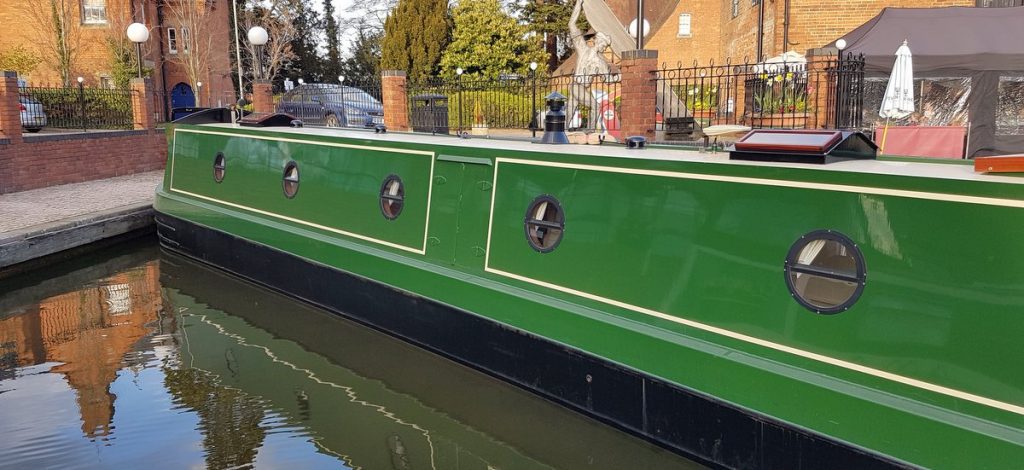 Inside, we had some work to do. We knew the wooden floors and panelled tongue and groove were already perfect for our hirers. And of course we fell in love with the Aga and Butler's Sink on sight. We had good 'bone structure' to work with and we are very grateful to the engineering and fit-out skills of the previous owners (she was completed in 2016.)
Narrowboat Interior design
Turning our attention to the interior design, we decided to reflect the heritage pedigree of the boat shape. We sourced antique furniture for the saloon and but also found contemporary light fittings to keep things fresh. Linen curtains and cotton waffle throws are from a muted colour palette, which allows the many beautiful maritime features, such as brass fittings, to shine.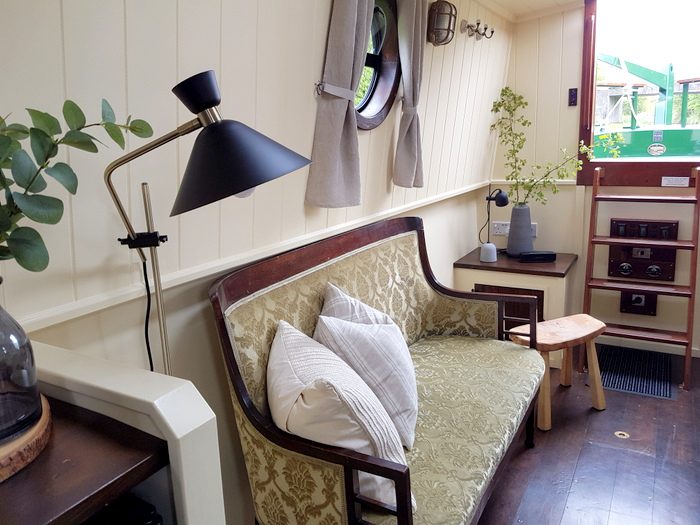 A unique space on this canal boat is the dinette, more romantically known as the 'snug.' This cosy curtained area allows for meals around a table, a work or hobby space and it can even be converted to a single bed. We reupholstered the seating, sourced feather-filled linen cushions and added an antique mirror for some gentle drama. This is a lovely place to hide away for a few hours.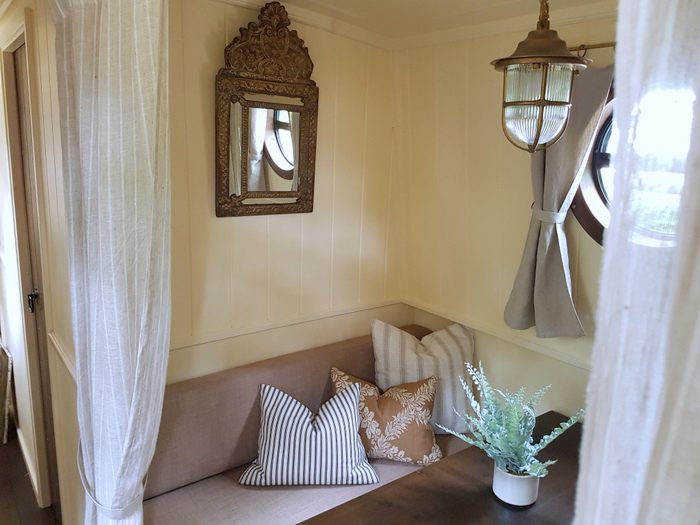 Bedroom
In the main bedroom, we set to work building an extension to the bed which would allow it to extend to 4'6″ wide (a standard double.) This bedroom is different from our other Boutique Narrowboats in that the bed faces forwards. The design allows you to exit the boat onto the front deck. The deck itself is so large that it can comfortably accommodate a table and two chairs. It is a perfect space for coffee at breakfast and cocktails as the sun goes down.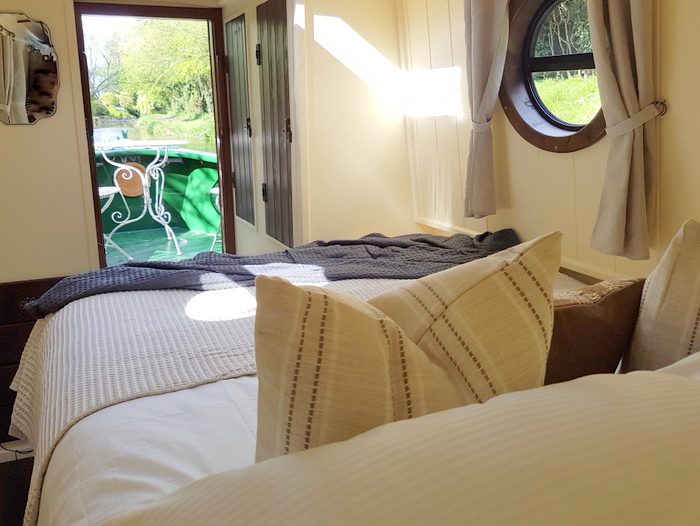 The kitchenettE
The small range cooker takes centre stage in the kitchenette, powering the central heating, heating the water as well as cooking. Shelving is made from reclaimed wood and linen cabinet curtains create a country feel. This is a delightfully-pretty narrowboat kitchen – try opening the side hatch on a sunny day for a guaranteed smile!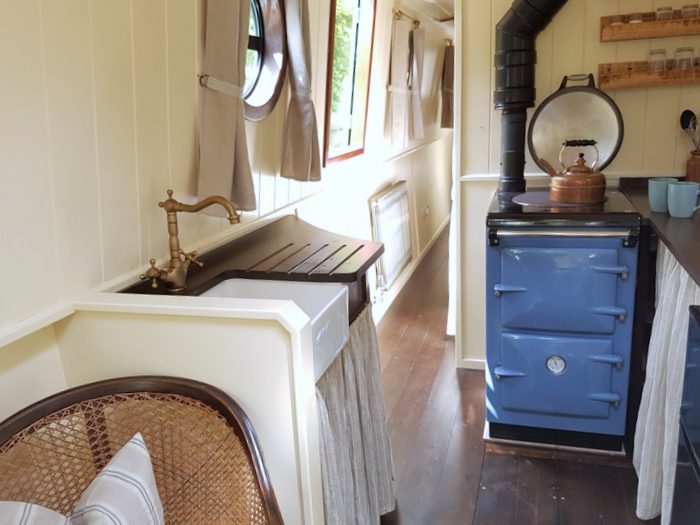 Final touches
The interior style of Kathleen May does not slavishly follow that of historic working boats. It is not traditional in a Roses-and-Castles folk art kind of way but we have worked hard to keep a flavour of narrowboat heritage. The interior design is inspired by a simple way of life and we look forward to welcoming her first guests next month.