Narrowboat training
Many of our hirers have never set foot on a canal boat before their holiday and so narrowboat training is vital. Although we offer a comprehensive handover for all our guests, we are happy to do a bit of extra 'hand-holding' for the novices who come aboard.
Once you've booked with us (or even before!), we encourage you to watch the Canal and River Trust's guide to narrowboating, known as The Boaters' Handbook. It's a little bit cheesy, but is honestly worth 25 minutes of your life and gives you a good idea of the skills you'll be practicing.
Canal navigation
An important part of your holiday preparation will be to think about which routes you'd like to take, as this will tell us which waterways features you will need to operate. Most of our guests want to have a go at locks, but there are also plenty of tunnels to encounter, and even a swing bridge. Each of these features needs a little specialist understanding – it's not rocket science, but we do suggest you do a bit advance preparation. The Canal and River Trust also provides a pdf of their Boater's Handbook which is a great place to start.
Boutique Narrowboat induction manual
As your holiday dates near, we send you a bit more information which includes our own 14 page manual. This is the nuts and bolts of how your Boutique Narrowboat works – how to operate the toilet, for instance, and how to start and stop the engine on your particular boat.
On the day of your holiday, we ask you to arrive as closely to 2pm as possible to begin your training. This will give you plenty of time to bring your belongings aboard and then walk through the boat with us, room by room. We like to show you around properly and help you understand the boat. Once you are happy with the layout, we will move onto some practical skills, such as mooring up and casting off.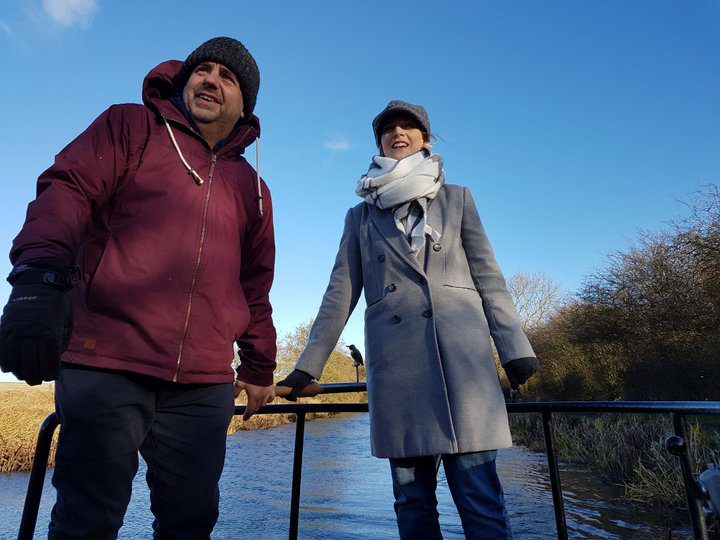 Practice makes perfect
A narrowboat is not difficult to operate, but she is heavy and slow to respond. This can take some getting used to and we are happy to stand beside you on deck as we talk you through the procedure. We show you how to set off and slow down safely, where to moor up and how to steer around other boats.
Some people take to it quickly and others need a bit more support, but with a bit of practice you will be cruising with confidence. There is much to learn but we like to think of this first trip as your "taster" – and we sincerely hope that it is the start of a beautiful relationship with the canals.
If you would like further extended training, Debdale Wharf Marina is also an accredited centre for RYA helmsman inland waterways courses and these can be a really useful way of brushing up your skills on the canal. You can book directly with the centre here.
For those of you who have never tried your hand at operating a canal boat before – well, you are in very good company. The majority of our hirers are either complete newbies or are relatively inexperienced and we are delighted to have welcomed them to our section of the Grand Union Canal.