Canal boat holidays in the UK are popular with many diverse groups of people. We've been operating hire narrowboats for a number of years now, and we have learned how to match each set of guests with their perfect UK holiday. The ideal canal boat holiday for a couple's anniversary trip may not be quite right for the family who want to bring their dogs for a week. This guide to canal boat holidays in the UK explains how to plan the perfect getaway for your own circumstances.
Choose the right canal boat for your UK holiday
Luxury canal boats
If you are travelling as a couple, you will probably prioritise the bed. If you don't have a good night's rest on your canal boat then you won't get the most out of your daytimes.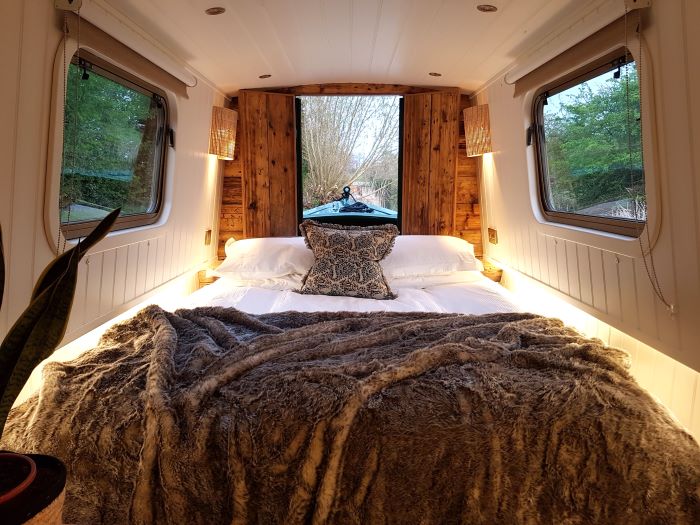 With room on your narrowboat for a decent king-sized bed, you will be well on your way to designing the perfect canal boat holiday for yourselves. By opting for a luxury narrowboat, the battery bank on board will also be more generous than a standard boat. This will mean enough power for a coffee machine, perhaps, or even a wine fridge. A large shower is usually a bonus on a luxury canal boat.
canal boats for Family and friends
For those travelling as a family, you might want to prioritise the living areas. A large saloon and kitchen makes for easier mealtimes, as well as a space for socialising. Sleep is important, of course, but you might decide that smaller beds are worth the sacrifice for the time spent together as a family.
Friendship groups will probably want to consider their bathroom arrangements. Two or more toilets/showers are important if you are sharing your canal boat holiday with other couples.
Dog-friendly canal boats
If you want to bring your dog on holiday, you will need to bring their bedding, towels and bowls. Muddy paws and wet fur are inevitable, so you'll need additional cleaning products. We don't recommend bringing nervous or disobedient animals along, as there will be times when you need to leave them alone – to operate locks, for instance. But if your dog is confident and well-behaved, then they will certainly enjoy the outdoor environment of this kind of holiday.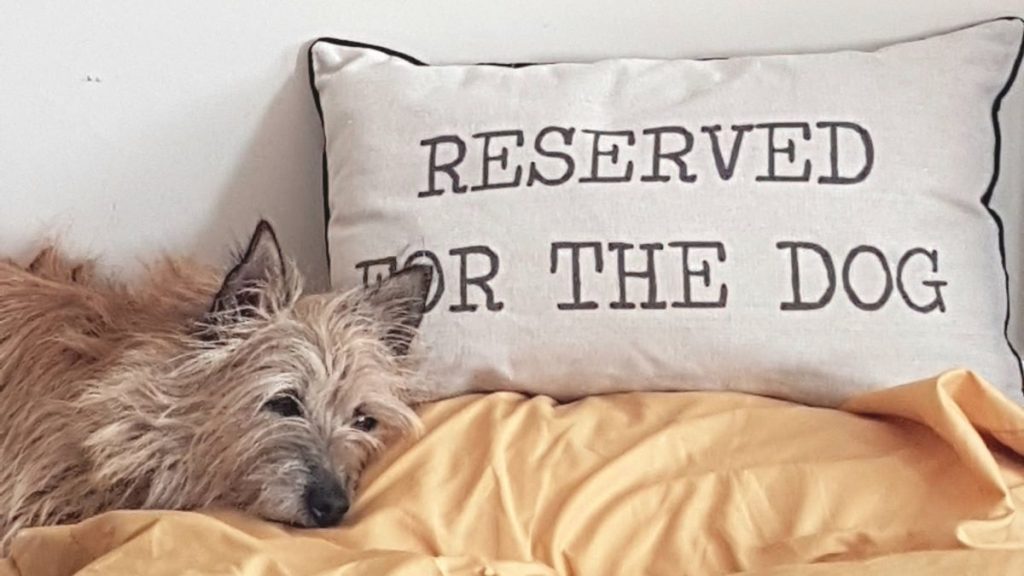 Before you leave for your canal boat holiday
Booking your canal boat is the easy part. Before you set off on your UK holiday, you have a little preparation to do. When you book with Boutique Narrowboats, we send you a link to our own online course so that you can familiarise yourself with simple manoeuvres and learn about the locks and bridges in our part of the Grand Union Canal. Our sister website, Union Wharf Narrowboats, has a series of beginner guides, too.
Many of our hirers have never set foot on a canal boat before their holiday and so narrowboat training is vital. Although we offer a comprehensive handover for all our guests, we are happy to do a bit of extra 'hand-holding' for the novices who come aboard.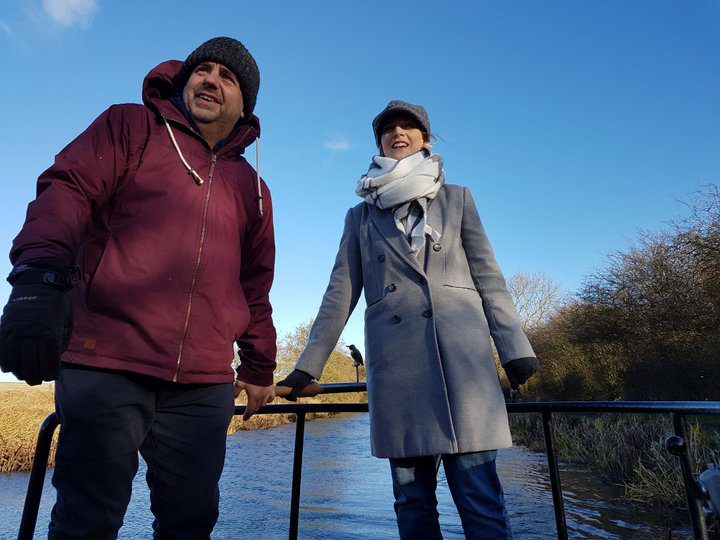 What to pack for your canal boat holiday in the UK
At Boutique Narrowboats, we also send you an inventory of what's on board your canal boat, so that you know what to pack. Holidays on canal boats tend to include bedding and towels, but not food, drink or toiletries.
Packing for all weathers is a good idea in the UK – suncream in the summer, skiing jacket and salopettes in the winter. It is a good idea to pack two pairs of gloves for operating locks and swing bridges (one pair can be drying out if they get wet.) Sunglasses and a peaked hat are useful all year round because driving a canal boat directly into the sun is challenging. Don't forget warm socks and slippers for the evenings.
Canal boat damage waiver
Your canal boat holiday or short break includes a Damage Waiver if you book with us. This means that you won't be asked to pay for the cost of repairs to the boat or its contents if you damage accidentally, as long as you've followed our boat-handling guidance and safety instruction, and stick to our Terms and Conditions.
At Boutique Narrowboats this means you won't need to leave a cash deposit when you collect the boat, or worry about any hidden costs. All fuel and training costs are included and there are no booking fees.
canal boat safety
The canals in the UK are generally narrow, shallow and have little movement or current. This means that as water-based getaways go, a canal boat holiday is one of the safest you can find. However, there are some safety issues to be aware of and you need to be familiar with these before you set off.
The easiest way to prepare is to read or watch The Boaters' Handbook. This is produced by the waterways authority known as the Canal and River Trust, and will help you to prepare for your holiday. Together with our online course, this preparation will include lessons on setting off and mooring up, how to turn your canal boat and how to operate locks.
You will also have a practical handover of your narrowboat when you arrive for your holiday. The training staff will help you to gain confidence in the operation of your canal boat before you go solo.
Choosing a route for canal boat holidays in the UK
Your trainer will go through the maps during your handover to ensure you have the best route planned along the Grand Union Canal. Sometimes a particular route is restricted due to weather conditions or planned maintenance work, so it is good to remain flexible in your choice of direction. Having said that, many of our guests enjoy ascending the famous Foxton Locks if they have the opportunity, and this route is easily doable in a weekend. We offer some suggested routes if you would like to plan ahead.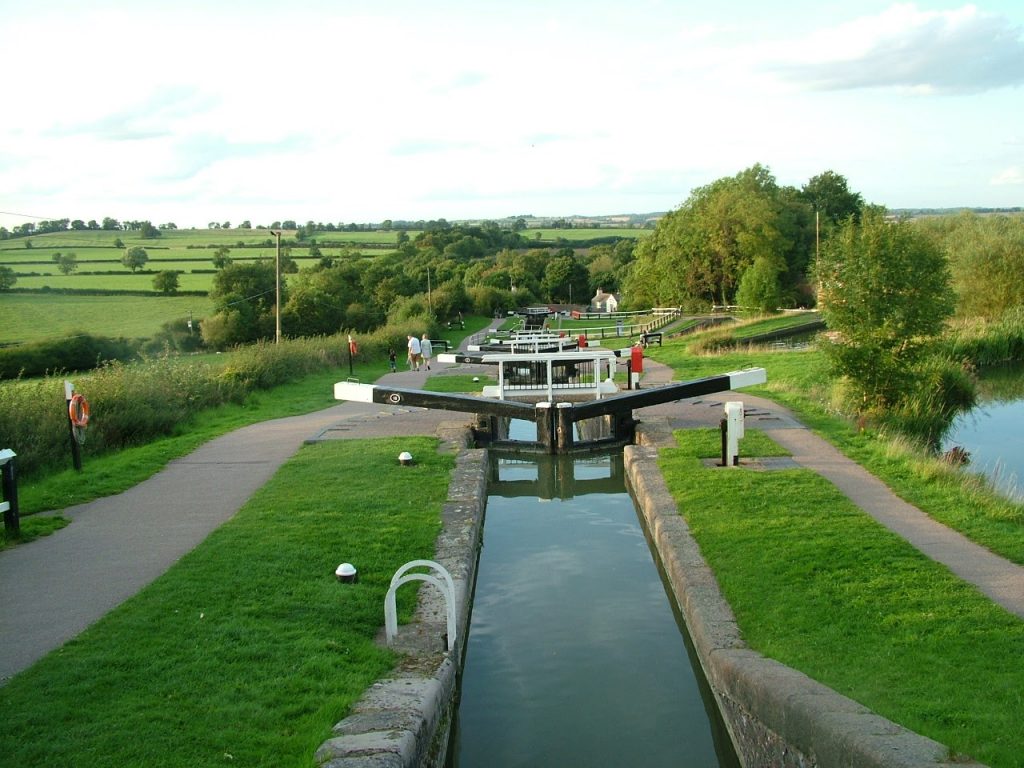 Where to stop on your canal boat holiday
As a UK holiday boat provider, our licenses allow our guests to moor up freely along the canal towpath. Unlike on rivers, you don't need to find a marina or drop an anchor – canal boat holidays in the UK are by far the easiest when it comes to mooring. There are some restrictions, such as not mooring under a bridge or on a blind bend. There are also obvious places where mooring would be difficult, such as where the canal bed is very shallow.
Your trainer will discuss good places to stop on your first night, and you will also have maps on board. These maps detail local pubs en route and we also have some suggestions on our itineraries for good stopping points for your canal boat.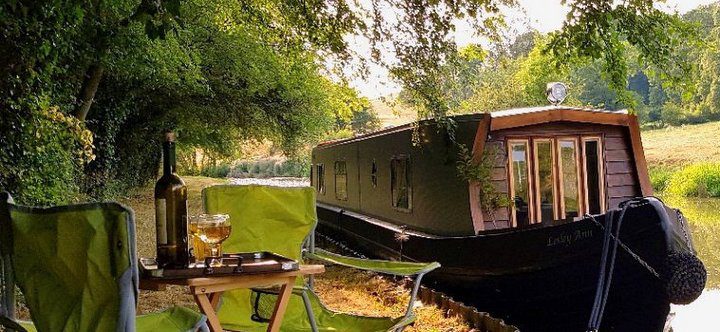 Returning your canal boat
Your canal boat should be moored back in the marina the night before the end of your holiday, so that you can be ready to hand back the key at 9.30am. This also means that you can plug into the shoreline, giving you unlimited power during the evening. Market Harborough town centre is only a ten minute walk away, meaning that you can spend your final evening exploring the town if you wish, before returning to your boat for a final night on board.
Book your canal boat holiday online
Your first step is to choose your perfect canal boat, and there are lots of photographs and information about each of our narrowboats on our website. We suggest you take your time with the selection, as this is where the adventure begins!