Our canal boat holidays are nominated for a top national award!!
We are so excited that our canal boat holidays are nominated for the British Travel Awards 2023. Our aim is that the Boutique Narrowboats are amongst the most luxurious canal boats on Britain's waterways and we are delighted to be in this year's line-up in the category of Best Company for UK Short Breaks.

So now we need your help to give us a fighting chance against the big national companies who also offer weekend breaks. We are a small family-run business with a tiny fleet of luxury narrowboats.

Do we stand a chance?!

If you'd like to help propel us to stardom, here's what you need to do.

1. Click on the button below or go to https://britishtravelawards.com

2. Fill out your details and click to submit your vote.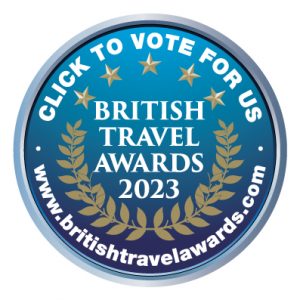 If you'd like to give us another boost, you could tell your friends and family about us by forwarding this article or sharing our social media posts so that they can vote too.
But whether you vote or not, it seems the perfect time to thank all our guests – past, present and future – for your support over the last few years. We do this because we want to bring narrowboating to new audiences. We receive regular feedback that our training for novices is second-to-none and of course the canal boat interiors also draw a lot of positive comments, so we think we must be doing something right. You can read more about our story here.
Thank you for letting us know about your experiences and we will continue to work towards attracting new people to this incredible way of exploring the countryside.
Best wishes
Aaran, Sharon, Alan and the whole team at Boutique Narrowboats
PS. Update 29/11/23 We won silver! So excited, will update in a new post soon x