Luxury canalboat for hire
Many of you have been following the creation of our newest luxury canalboat for hire, Woodland Grayling, and we are delighted to show you the final result.
We had hoped that the maiden voyage would take place last month, but alas the second lockdown meant that we had to cancel bookings. Then we found ourselves in Tier 3.
Then, you know, Christmas.
So all being well, we now plan to wave her off in January.
This is what those guests will find on board…
A Big Bed
Like all the Boutique Narrowboats for couples, Woodland Grayling has a hand-built king-sized bed. It is topped with a very deep mattress, a sumptuous topper and a feather duvet. The Egyptian cotton bedding and woollen blankets create a sense of luxury which can be hard to find on holiday canalboats.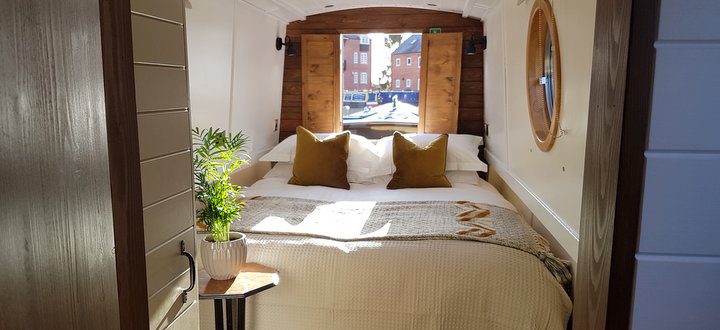 Design-foward interior
Every detail on this hire boat has been designed with a contemporary edge. Modern features like the black marble basin and mosaic stone shower are married with antique touches such as gilt-framed paintings and elegant, timeless furniture. The muted colour palette allows the key focal points to shine.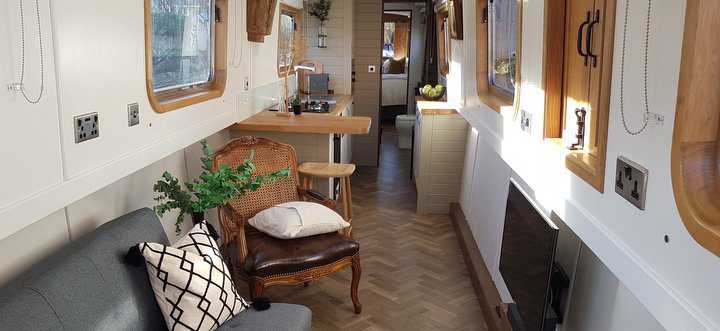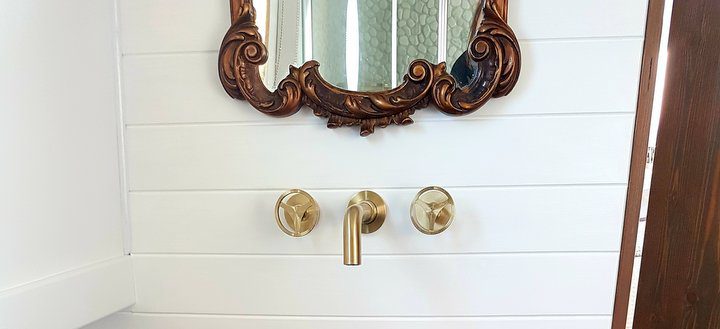 Full kitchen
Woodland Grayling is longer than most couples' narrowboats, which means that we've been able to give it a spaciousness not usually associated with holiday boats. The kitchen ('galley') is equipped with all the appliances you'd expect at home, including a full oven, microwave and under-counter fridge.
We've also added a few kitchen flourishes: a wine fridge, ice-maker and water filter, and a Nespresso machine. The Ercol bar stools lend a mid-century design feel to the informal dining area.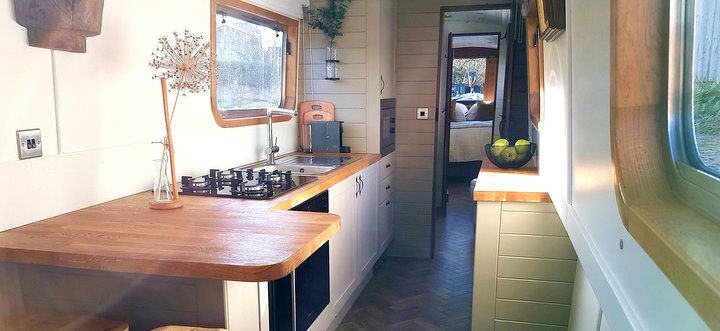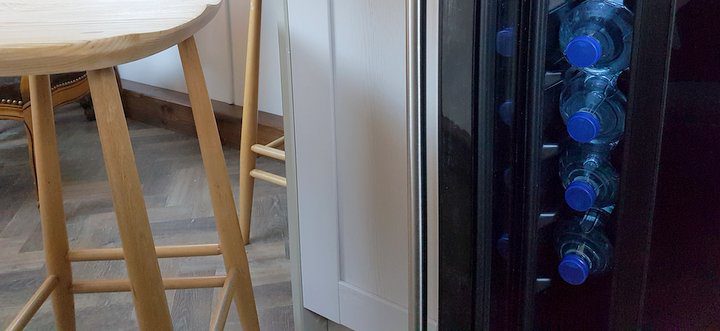 21st century luxury
Traditionalists, look away now. You won't like any of the things I'm about to write 😉
You can't build a luxury canalboat for hire and ignore the things that make a five star minibreak special so on this boat you'll find an internet TV, Bose sound bar, and unlimited WiFi. There is full central heating throughout, an electric flush toilet and a delighfully-roomy rainfall shower. We've built a warm air drying cupboard to help with the British weather and created somewhere to store muddy boots.
And to top it all off, the headroom on Woodland Grayling is 6'7″ – that's one of the best we've ever seen on a holiday narrowboat.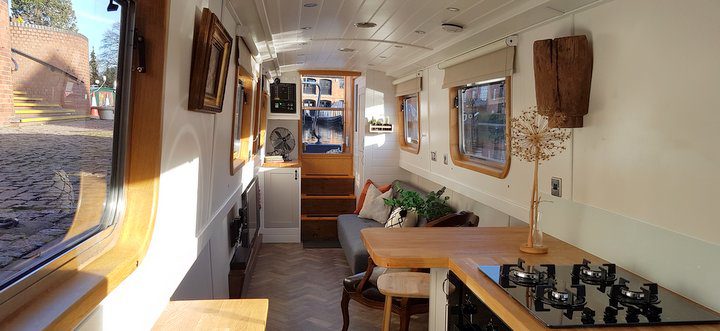 Want to see more?
There are some more pics and a video showround tour on this page:
If you'd like to check out the prices, the list is below.
See you in 2021!